March 6-12 is annual Professional Pet Sitters Week™ – a yearly reminder of how far the pet care industry has come. For us here at The Pet Nanny, Professional Pet Sitters Week™ is a reason to celebrate the high standard of care we're fortunate to be able to offer our clients in Concord, California and surrounding areas.
The History Of Pet Sitting As We Know It
In 1983, Patti J. Moran opened up one of the first pet sitting businesses ever – Crazy 'Bout Critters in North Carolina.
By offering dependable, professional pet care services, Moran was able to quickly build a profitable business while pursuing her passion for animals.
At the time, people didn't hire pet sitters. There simply were no professional options. Pet owners would have to call upon their friends and family members to find someone to feed and care for their animals while they were not home. If they were lucky, they had a compatible, knowledgeable carer in their phonebook. Most weren't so lucky. 
Moran's first customers were thrilled to always have access to a professional sitter they could trust – a reliable carer their pets adored. As Crazy 'Bout Critters grew, pet-loving entrepreneurs across the country were inspired to offer their own services in their hometowns. Moran's first book, Pet Sitting For Profit, made it easier for new sitters to follow her footsteps.
In 1994, Moran founded Pet Sitters International (PSI) – an educational organization of professional pet sitters with resources, business tools and networking opportunities to help pet sitters provide the best possible care and highest standard of professional service. PSI also helps pet owners find certified pet sitting businesses close to home.
In 1995, Pet Sitters International celebrated the very first Professional Pet Sitters Week. 2016 is the 22st annual celebration of dedicated pet sitters who work hard every day to keep their clients safe and happy.
Why We Celebrate Professional Pet Sitters Week
As members of Pet Sitters International, we're devoted to our continuing education – we stay up to date on pet care and safety, and connect with other professionals to ensure we're satisfying our clients' need for the best possible care for their pets.
Most of all, we're devoted to making a difference.
We're thankful to keep local pets safe and happy – and to get to know them as they become our friends.
We're thankful to hear that sigh of relief when a client knows we'll be there for his or her pets.
Professional Pet Sitters Week is an opportunity for more pet owners to become aware of insured and bonded pet sitting services. We celebrate as pet owners learn how to choose the right caregiver for their pets.
A Big Thanks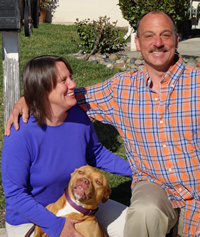 Professional Pet Sitters Week isn't just a time to celebrate modern pet sitting – it's a time to thank loving pet owners like you who help our small businesses grow.
So, from the bottom of our hearts, we thank you for making it all possible.
If you'd like to learn more about how we can care for your pets, read about our pet care services. 
If you'd like to learn more about professional pet sitting as a career option, visit Pet Sitters International for more information.